Er, sort of. It's Angus. Expect insanity. Here's the goss from a May interview with the man himself, Mr Nick Peer Hat).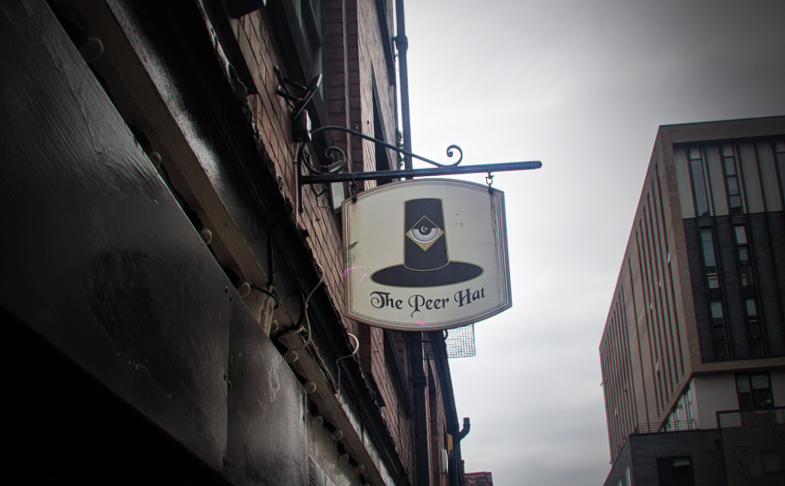 Why the need for questions? Well; they are needed for guidance, pursuits in academia, expressing concerns, deconstructing arguments and even challenging bus fare amendments… but most importantly: mere ascertainment. Sometime in late April, through a familiar medium, I spoke with Hat-Basileus Nick about all things Peer.
Angus: Was the Scotch egg feasibility study ever close to praxis?
Nick: (Laughs) You know what, you could just do the thought experiment yourself really, picture a room filled with scotch eggs and… scotch egg debris more likely… and then multiple scotch eggs… exponential scotch eggs… no it wasn't, it was not taken seriously, it was considered to be a non-starter. Although, funnily enough my brother now thinks, "Maybe we should sell scotch eggs?", you know, I'm not bowled over by scotch eggs anyway…
Angus: Sort of an alternative revenue source, but I guess they're kind of a niche thing…
Nick: That's definitely a thing, like you say 'looking for multiple revenue streams', but it's certainly not been discussed with any vigour, put it like that.
Angus: In ten euphemistic words, describe the past year?
Nick: Ten euphemistic words, ok… Frightening, confusing, disappointing, difficult, chaotic, illuminating, enlightening, different… how many are we on?
Angus: (Counts with fingers) 6, 7?
Nick: Ok… ludicrous, depressing, absurd… funny as well and occasionally surprising…
Angus: That's 2 (laughs).
Nick: Not the best ten words and rather broad I think, but there is a reason for all those.
Angus: A rug puller for any business…
Nick: Certainly for us it was, very much so. You're talking about pulling the rug from under that word 'community', which I have come to believe in over the past few years. Not that I haven't… I was, well not always, have considered myself some version of an anarcho-communist, but actually putting something into practice… simultaneously reinforced my compassion I suppose, if you can reinforce compassion, whilst also, pretty much jettisoning any kind of commitment I had to dialectical materialism…
Angus: (laughs) One of the key issues is that this government isn't renowned for its altruism. The whole neoliberal-individualist philosophy is that they don't value communities, that they shouldn't be subsidised… it's like that word Brian Eno coined, 'scenius', you know, good things like great painters don't just come out of nowhere, there has to be some kind of enriching…
Nick: Chemical stew…
Angus: (Laughs)
Nick: Literally it…
Angus: (Whispers) strange concoction… Venues like the Deaf Institute and Gorilla were spared the guillotine by a 'forward thinking' chain, Tokyo Industries, any thoughts?
Nick: That was just guff wasn't it, like a cotton wool story; one big company sells its assets to another big company, life goes on, "oh, we can pull on the heartstrings, we've got an easy narrative here for a week or 2… oh no not our beloved…" I do actually like Deaf Institute… Gorilla I think has a few problems as a music venue, but I was certainly not happy to see anything bad happen to them or for them to disappear. At the same time they're not 'community hubs' by any stretch of the imagination, they're just nice assets for a town.
Angus: Yeah, that's the thing. Gorilla put on some good shows, but at the end of the day you go to the bar and it just has this generic… (places hand in the air, unable to find the word).
Nick: Get to wherever your friends are, the table if you're in the bar, and just get on with it, whatever you're there for (laughs).
Angus: What would you, uh… You can't write on cardboard I've noticed, sort of falls through…
Nick: (Laughs) Is it corrugated? The devil's work…
Angus: (While examining) The structure on it is lacking, I guess… What would you have to say if some top-hatted plutocrat marched through the Peer Hat's doors?
Nick: I'd like to think everybody has something to teach you. I am also a bit impulsive and could easily see myself, in the moment, say if I saw… a bit topical, and maybe from a different perspective; Keir Starmer come in, I'm more likely to throw Keir Starmer out than I am Boris Johnson, just because, I've got a lot of bad blood there, in terms of that.
Angus: Bloody centrists.
Nick: I'm tired of the whole show of that, I'd like to think that I could summon up a degree of compassion… and I'd also think, depending on who that plutocrat was, and who was present in the Peer Hat at the moment of them entering, I don't really need to do anything, do I? I'd just leave it to people, "I've got a few choice words/I've got a few questions", and I'd just be like (gestures that he would stand back), so be it… You cannot deal with that kind of entity using its own weapons, and when people say, "all you need is love", and people say, "Oh, that's bullshit", but that's actually what you do… I'd like to think I'd be kind and considerate, in the way that they weren't…
Angus: (Agreeable) Just to show you are better than them in a way…
Nick: Yeah, but if I'd have a few drinks or something, and maybe you'd just be like, "Fuck, it's bloody Hancock!", or whatever his name… Bad Hancock, not the good Hancock… Hancock's half hour, Hancock's… hour… anyway sorry, that's my answer.
Angus: Yeah, just dealing with it compassionately, I suppose anyone should be welcome in that whole… even if monopoly men only have the…
Nick: It's got to be that way, love thy… love your enemy… it's really hard to humanise people who are responsible for so much misery, I mean we could go beyond our politicians and start talking something along the lines of a Monsanto executive or that kind of thing… and then, it's a thought experiment, it gets more and more difficult at a certain point… or some of these American fucking hawk guys like John Bolton or something like that. I don't feel like you could question him or speak to him. I think I'd launch him forthwith, there you go (laughs).
Angus: (frowns with disapproval) Oh yeah… he has that moustache…
Nick: There is a point, I'm not saying love has a limit, but there is a point where it would be more loving, to him, to eject him…
Angus: In the spirit of DIY and eclecticism, do have any new performance styles planned? like… perpetual freeform night or…?
Nick: Well, it's interesting that you should say perpetual freeform… there's definitely people that have approached me to do things along that line… don't want to ruin it too much but a sort of semi-perpetual… performance that's taking place in a BAR kind of thing… I'm gonna go with it, it seems a little wild, it might not… be it on their heads. From an in-house perspective, this may segway into another one of your questions… I've been struggling with the conundrum of how do you make an online performance have meaning… when it's kind of an oxymoron in a sense.
Angus: Separate from the performer…
Nick: I've got an idea, did you have another question regarding online stuff or do you want me to go into it?
Angus: Umm, I've not explored that… I remember seeing one of your blog posts and Paul Blake had written some ideas down…?
Nick: Great amount of respect for Paul… In this case, the basic bottom line is… to create a kind of etheric Peer Hat that exists online, 'it's just like the real thing'…
Angus: (Laughs)
Nick: 'It's exactly the same, you can watch a band there, get a virtual pint there… it's virtually the same'… and obviously, fucking horrible. So, the thinking is kind of like rather than try to paper over the cracks of this bullshit, actually lead into it and say, "this is what it looks like, this is how lonely and alienating this experience is gonna be"… for example it's gonna be a mixture of… each episode, we're gonna start with let's say an episode… initially it was this arts council grant thing so I had to put together a framework of something they could relate to, that's why I use the word episode. Each one is 25 to 30 minutes long, it has a band on or an artist, more likely a musician in all honestly, certainly for these first 12, but it could be anything in fact. And they do either a performance at the Peer Hat on the stage or they beam something in which will be shown on a projection screen, but also taking place in the thing, and this guy whose… you don't know what this place actually is, 'it looks like the Peer Hat'… he's trapped in this place and he's kind of following a little bit of what's happening to him, and he's the only audience member, and then one barman… its sort of… everyone likes the Black Lodge, right? I don't want to literally rip off the Black Lodge, because I don't think David Lynch has a monopoly on other dimensional hell-spaces by any means…
Angus: Striped floors… (Laughs)
Nick: We're doing well at creating them… that's literally what's happening, everybody trying to sell us these other dimensional purgatories… limbo spaces… "Well, ok, let's exploit it and show you the fault-lines", and then maybe people can do something with that. It's certainly something that's an outlet for artists, but you know, I'm more than cynical about this moment…
Angus: It's interesting, almost like a weird point and click game…
Nick: That's right, something like that, I want it to be as interactive as we are able to make it. Certainly in terms of things like, "What should the protagonist do, what should his next move be in the next episode? Try the fire escape!".
Angus: Usually with those sorts of things the protagonist will have no words, just kind of the embodiment of the player… but you could give the protagonist personality?
Nick: It depends on who we end up using for it. I've also thought it doesn't necessarily need to be the same person, they can shift and change, although they are in the same spot, the same avatar, the same anxiety, if you like… that's the ambitious ploy, and hopefully I will get the £38,150 I need to make that possible…
Angus: From the Arts Council or whatever they're called?
Nick: So, basically they're looking to get ahold of filming equipment… I mean this should look fairly favourably upon it because the main criteria shifted from diversity to reaching a wider digital audience… so, how do you do that unless you got some kind of thing going on. I'm totally, totally turned off by streaming, that's just… no, no, no, no…
Angus: Its just a substitute for something that could be… the real thing is just so much better…
Nick: What bothers me as much as anything is the hypocrisy and obfuscation around it, if we could just accept… no one in WW2, I don't think, ever tried to comment that rations were better than a 3 course meal, "these are rations", they weren't special, super meals…
Angus: Yeah… ersatz… Golden syrup… (Laughs)
Nick: Yeah, god… find one of my ten words and you can hit two or three already, (mimics computer sound) "depressing".
Angus: I read somewhere… Did Thurston Moore inaugurate the Peer Hat?
Nick: Come again, sorry?
Angus: Did the (misspoke)… Thurston Moore play…?
Nick: Yes he did…
Angus: Really, how did that happen?
Nick: The short answer is magic, the long answer (laughs)… still magic. Basically, I and a couple of others sat down with the intention of making the opening night unique and memorable. We had no idea how we were going to do that because you could smell the paint, the toilet had literally just been finished, concrete floor… it was just the basement as well, the ground floor hadn't been finished, still a building site… and a friend of mine, Lauren, was like, (Higher pitch) "Oh yeah, I want to do a gig here, we'll do it Nick it's gonna be great", I was like "Uhh, go on then". We set up, she phoned me and said, "Nick, something amazing's happened!", I was like, "What? What's going on now?", and the phone went down, like something from some shit film.
Angus: (Laughs)
Nick: I was stood behind the bar, and all we had was red stripe and… fucking Thurston Moore comes in… "Oh, it's Thurston Moooore!"…
Angus: Thirsty Moore…
Nick: Yeah, Thirsty Moore… he said, (American accent) "Do you have any British ales?", "We got red stripe…", "Ok, that's fine…" and then he played like some trademark… he knew these arty sort of…. arty, my god… noise acts I suppose… there was a girl called ecamordicai (Possible misspelling) who was playing cello… he knew her and he was passing through, I think he had just had a gig, probably at Islington Mill, something along those lines. And, he just turned up and played… bizarrely, over the course of the evening, he changed from being… at first it was intimidating, but after a while he was just kinda in the way, standing in between the bar…
Angus: Where you open the doorways and that…?
Nick: Yeah, "sorry, just need to come pass, thank you… need to do it again, can you please"… What the hell… what's happening with my evening, I'm telling Thurston Moore to please get out of the way because I'm trying to carry things between the bar, (American accent) "Oh, yeah, uh"… it was like that… he finished and got into some sort of hatchback and was driven off grimly, like, Alan Partridge style into the night… 'there it goes'… in a Ford… or whatever, I'm not really big on cars… a Citron or something really parochial, and off he went…
Angus: Out of nowhere… The obstructions of a noise rock deity…
Nick: Yeah, it was the first of… from my perspective, and I'm sure the people might have their own ideas… the whole thing is a testament to the working reality of a magical universe as far as I am concerned… nothing I have asked for has failed to occur, I've already found enough proofs for myself of that kind of reality as far as I was concerned to survive before then, but I never put it into action in a way that was so significantly useful/damaging/tumultuous in terms of my life… it totally fucked my life up in a good way, in a bad way. I don't regret it, I'm happy for it, but it really cemented my personal practices around that matter, because there's so much that has occurred here that really beggars belief in terms of what I've wanted from it, or what I dared to think was possible, so, uh, quite good.
Angus: Mount Olympus itself…
Nick: Bring the mountain to Mohammed…
Angus: (Laughs) Exactly… or the bodhisattva… or arhat or whatever the enlightened being in Buddhism is…
Nick: Honestly, I don't know much about spiritual models that are at least… when I talk about magic, I'm never substituting for a form of spirituality, it's just something that works, that's basically it. Where it does beg questions… if it works, why is it not just an accepted part of things? Why would you be called completely fucking barking mad for even thinking such a thing? And, has it always worked? Did it just start working? I mean, I know advertising and propaganda are forms of magic, because if you look into these things… psychology is, and psychiatry… its the occult with the serial numbers filed off… but, (West Coast American Accent) "it's a buzz man" (laughs)… I don't mind people knowing that about the place, but I'm also kind of… I've noticed it become the zeitgeist, like instagram witches and…
Angus: Aleister Crowley?
Nick: Yeah, Crowley t-shirts and women's magazines with intentions; new-think and new-thought, all that kind of stuff… it's very much something that's occurring now, I have my theories why that is; I think it's like, cosmic whack-a-mole, the more you, "tighten your grip, the more it starts to fall through your fingers" (Mystical tone)… that kind of thing, you press… pressure somewhere, and it bulges out somewhere else… I literally think that they… they?… we… reality is being brought into being by this technocracy sort of thing that we are seeing now, and it's also bringing in it's opposite at the same time, and its fucking crazy…
Angus: You can't grasp it per se, I guess its… there was something recently about that, a new kind of energy source, but people can't really describe it…
Nick: Maybe it's information, maybe it's the (exaggerated American accent) 'internet', but information looks more alive than it has in the past because it moves so quickly and spreads, dare I say, like a virus… like a living thing. In the past, it wasn't inert of course, it wasn't ideas, but time moved at a much slower pace. Now, there instantaneous and you can start to see a shape emerge… I guess I'm an animist ultimately… an anarcho-animist… you can start to see things like an idea actually start to behave like a living thing, is it possible…? Panpsychists for example, will say "oh yeah, we can get behind the idea that the sun might be conscious", in some fashion, and certainly plants as well, that's come a long way. And, maybe animals are not just motorised instinct bags so we can kill them without any kind of conscience.
Angus: Like K. Dick and the… (laughs)
Nick: How far does it go, so when we start extending it further… what about a mountain… or inanimate objects that you love or care for… or a place…
Angus: Or a plate (Shows a plate with sandwich on it).
Nick: Well, you know that was a nice plate with a unique meal, I'm not saying it thinks in the same way you and I would, or even the word thought… how we think is… we apply that model to other things… for example, when people dismiss the idea of a living universe it's because they're applying our model of thinking onto that universe, and not considering for a second that it might have an entirely different way of 'thinking'. You look at something like an idea and these things spread, and suddenly you start to see why one person might believe in a god, not the 'god' but something like Athena or Hermes or Babylon… it's a collection of information that's close moving, sort of affecting people and becoming it's avatars… anyway, the Peer Hat.
Angus: That's quite interesting, actually. I remember reading the Doors of Perception a few months ago, and how it talked about 'transporting experiences' and how various cultures came to similar conclusions in many ways. I think having these rigid, Judeo-Christian values, not to slag off Judeo-Christian values… but this main drive of 'enlightenment' coming from the West and how everyone has to adopt it's values, that in a way it kind of becomes… viewing the idea that the West somehow trumps every other idea (winces)…
Nick: It needs examining. I'm fully onboard with awareness of imperialism, our colonial past and unconscious racism, and all those things… and yet, we also have to examine where that assessment is coming from, whose the Eye of Sauron for example, if one is campaigning for trans rights…? rights to do what with whom, who are we trying to appeal to? "please, please, accept us"… who? Is it that person across the street… or that person…? oh, some sort of military-industrial complex bullshit (sighs)…
Angus: Edifices of authority… the superstructure of caste… even though we'd like to think we live in an egalitarian society, its not really the case.
Nick: No, we're literally sitting on a mountain of skulls. And, there's no point for a second at all, with a little bit of critical analysis, trying to campaign for rights, I don't think, within the vampire's castle. I don't know if you know Mark Fischer?
Angus: I've heard of Mark Fischer…
Nick: He's dead now sadly, a couple of years ago. He wrote an excellent essay called Exiting the Vampire's Castle. He identified the vampire's castle as being sort of the weaponisation of guilt by neoliberal forces…
Angus: (ughs with disdain)
Nick: Preventing people from turning their attention upon their oppressors and turning it onto each other, subdividing one another endlessly in some algorithm of fucking hate. I thought that was really interesting because, it's like that sense we can't (sighs)… talk about things. When our own culture, the thing about being so fucking 'woke', is built literally on murder… for example, this second there is god knows how many children in Ethiopia wriggling through lithium mines… that's the reality, guess what we're the fucking bad guys, right the way through every single one of us; black, white, trans, female, male… in this empire, benefiting from it.
Angus: I was reading Frantz Fanon's Wretched of the Earth, even though we in the 'mother country', in Britain or Portugal or whatever, may be opposed to colonialism, at the end of the day we are still reaping the benefits and these countries are all still unstable to this day. The Middle East was more advanced than the West originally, but now its kind of…
Nick: Again, the West, the Middle East… where's the point of reference (Holds an imaginary compass) "That's the West over there, that's the Middle East over there, it looks like Europe, and maybe even Britain, British Empire perhaps, ah…" because the Middle East don't call themselves the Middle East, I mean we are the West, but there's another West too…
Angus: Yeah, Siberia could be the West, Vladivostok…
Nick: Its fucking insane, its insane. Coming to another one of those ten words, a certain degree of illumination is taking place when you are suddenly shorn of your major purposes, then introspection occurs, and also examination, unless you just curl up in bed. And that's what I mean when I said it's been occasionally enlightening or illuminating because I've had a little more time to think about these things, get angry about these things, get sad about these things and come to terms with them a little bit and then hopefully have it inform my actions from this-that point. Hopefully, hopefully, hopefully, hopefully (crosses fingers)…
Angus: For the most part the average person just wants to live their life, which is fair enough, but what was that thing called… a panopticon, a prison which is designed so that you don't know when you are being watched, being compelled to… (strikes a regimental pose).
Nick: I don't remember… It's something that sneaks up bit by bit… an event if you will, a world event, I can't remember quite the word I'm looking for, it was an easy one, just escaped my head… bit by bit I found myself becoming worried about expressing my opinion, there was a certain point where I was more than happy to express my opinion because I felt only a complete arsehole would throughly disagree with me, I was trying to not be a dickhead in essence. "What's your guiding light?", "be nice to people, be kind to people and try make sure people get what they deserve in a good way". It used to be a fairly simple thing… now it's become a sense of dread and worry about bringing upon yourself… I guess, cancellation I suppose… Cancellation? What the fuck man… it was a joke at first wasn't it? "You've been cancelled" (High-pitched American accent), "No, you have been cancelled" (Deeper, serious pitch)…
Angus: "You've been eradicated, purged from the earth" (similarly deep pitch)…
Nick: I have to be careful with it because…
Angus: Of course…
Nick: Coming back to that 'would you throw out a plutocrat', you are trying to be as welcoming as possible to everybody but sometimes the nuances of a conversation can be lost in the sturm und drang, so to speak. That agreement is not always in place for people, "we can talk, we can have a conversation and it might get a little heady"… anyway…
Angus: It's discourse… rather than treat one's views as dogmatic… sacrosanct… I know people that hold views that are loosely right-wing… which is fair enough, as long as they don't impose jingoistic philosophies… well, maybe they do have jingoistic philosophies…
Nick: What can do you, back again, we are literally the living product and beneficiaries of a jingoistic philosophy… that line 'we are it'…
Angus: (Holds imaginary flag)
Nick: Which is why it's, "don't point the finger motherfucker", its a difficult one, "whoever you are"… but then again you want to be able to speak and deal with situations. I'm certainly not an accelerationist, I know that's considered something kind of right-wing in some cases, letting the dominoes fall almost, quicker and quicker and quicker, 'let's just get it out of the way, we need to have another holocaust, we'll get that out of the way', that kind of thing, which I think people sometimes associate with it. But what I do think is that the way out, or the exit, or how to exit as a verb without it being the… it's like a continual thing, you never actually get out, but as long as you are walking out, the only way to do that is to simply question everything; whatever it is, there's nothing sacrosanct, your beliefs, there beliefs, and just like that you keep moving. Like you say, a dogma, that's the end at that point, you've become part of the system which frankly feels calcifying, it feels like a prison, its that gnostic thing again, 'how would you break out of it?, what was the solution?'… and solution-based thinking has got us this far, and look at what we have done (shrugs)… "that's all I wanted to say on that" (Southern American accent).
Angus: (Laughs) "Plead the fifth amendment on that" (Similarly southern accent)… The Peer Hat has been granted a… grant… I recall in one interview you talked about the fact that the Arts Council oddly puts music venues lower on the priority listing (for the Cultural Recovery Fund), even though they are a salient part of Manchester's culture, which is quite ironic on their part…
Nick: It's ironic and it's also actually… that word again, 'ludicrous'… because I wouldn't mind if there was a judgement being made where they were saying "museums are more important than venues", I mean it's arguable, or, "orchestral halls are more important", and then you could have this discussion about class and such, or you could say, "roller rink arenas are more than them"… and have some sort of justification. But when certain bars whose function is nothing but cash and flesh, and, in my opinion, contribute negatively towards community, when the grant is specifically for cultural institutions, you tell me how in the hell you can justify that. You talk about where music venues rank (gestures hand to indicate a low position)… you can get buried under that sense of despair. I don't know if it's music bars as such that are very poorly valued or whether its more likely, I don't know this, a case of corruption, which means that you get the scraps after the people that know somebody… that feels more accurate to me.
Angus: There's definitely something not right.
Nick: We've had so many villains of the week over the course of the Peer Hat, you defeat or get past one person, then there's another bastard who's like, "We're gonna make you shut down for good" (Comedic, yet antagonistic tone), the episode ends and we look at each other like, "what are we gonna do" (Comedic, yet concerned tone), and then somebody comes in, "Wheeeeeeeeey" (Jovial tone)… "We've got to get rid of Von… Kleidau, he wants to demolish the Peer Hat and build a… 5G Mast there" (Laughs).
Angus: A giant submarine base…
Nick: Yeah, a submarine base in Manchester (Laughs).
Angus: There are malevolent entities out there, in regard to…
Nick: If you crank an idea of personhood, at certain times, these entities will manifest through people. I always think the second… verse? (Ponders)… of Allen Ginsberg's poem Howl…
Angus: I remember reading it recently, something about the syntax of certain things…?
Nick: Cross bone congress of Sorrows… all that kind of thing… what is it, his fingers are ten-tombstoned, his mouths are smoking, dynamo his brain, children sobbing armies, old men crying under stairwells… moloch, whose faith is a cloud of sexless hydrogen… what the fuck, it gives you a shiver when you think about it. As I say the world doesn't work in a way I thought it worked, than 10 years ago, for example. That word 'frightening', hit on that one (gestures as though crossing it off).
Angus: Doesn't he say everyone dies in Denver? There's 2 different verses, I read half of it and then, "Well, I'll have to come back to it", and I eventually finished it.
Nick: It's like a…
Angus: A polemic of some kind?
Nick: …a friend who died, and him living as a gay man in that time period. But the second part of it is just, "why do these things happen"… basically it starts to say, "focus out a little bit and look at the cells that make up the body of this demon"… 'Oh shit', it's like its more than just their suffering or his suffering, its all the suffering, Moloch… what was the other one, his mind the spectre of genius… "Aaaaaaah, god no"(faux-fear whisper).
Angus: I guess genius is a horrible, well not quite horrible, thing to be branded with, like Brian Wilson being labeled it by the music press to big him up, forcing him to live up to it… I guess it is kind of a spectre…
Nick: I think so, you don't want to be labeled a genius unless you're also a narcissist (Laughs)… Maybe its fuel at that point.
Angus: (Laughs)
Nick: I mean Paul McCartney never seemed to have a problem with it…
Angus: (Laughs)… Are there any strange anecdotes regarding new visitors, when you get random people (mimics curtains opening) discovering the Peer Hat?
Nick: Well, some of them are negative, some of them are positive. But generally, they're all weird, which I guess I'm grateful for… In terms of random anecdotes we've had… the open mic nights are quite amusing, on the first Monday of each month, obviously they attract a certain type of individual, namely a complete loon most of the time. I remember we had, you might have remembered the Mayans, that was quite harrowing, sort of taking over my life, "Oh you're sleeping hear as well, ok… you live hear now?", so there was those guys, they were interesting…
Angus: Mayans? Woah…
Nick: So many weirdos… there was a night where we had a crack-fiend who invaded and refused to leave… Basically, this dude comes into the Peer Hat and I saw him trying to put a £10 note into the jukebox, and thought, "that's probably not good…". He was fairly well dressed, we're not talking a homeless person, he was sharp, he looked like he was on his way out… the next thing he's pulling out this wrap of cocaine, which tumbles out onto the floor. "Look, my friend, you're gonna have to leave", "I'm having a drug breakdown, ok, and the way you are talking right now is making me quite paranoid!", "Well that's because your snorting cocaine in the middle of a bar… we won't call the police, just leave, please", and, "no, no!"… he was pouring with sweat from these veins popping out of his head, and he ends up hanging onto the door… we're trying to get him out without being physical, it was a Monday night as well so there's no security. And he's holding on like, "aaaaaagh, no!", an hour, 2 hours pass and people coming in were trying to reason with him, "Listen, why don't you come out" (Soft voice), "Please, you are making things worse", you can imagine. He's there all night, we call the police, "alright, we're on our way", they don't turn up, in fact the council doing their little walk around turn up first, with them pointing in the distance while taking photographs. They came over, "You're supposed to have this door closed after midnight!", "well, as you can see there's a man hooked to a…", "Yeah, but still, its the rules, you should have called the police"… "aaaagh, no!"… "We called the police 2 hours ago, but they're not here", "oh right, we're gonna have to fill out an incident report", "right, whatever", meanwhile, we sort of lured out the guy and he ends up somewhere, distracted by somebody doing something behind his back (waves arms), he gets trapped outside and then… it ends up with these 2 council officers in the Peer Hat, we shut the shutters down and close the place, so everything is locked in, "We filled out the incident report, it shouldn't be a problem, we'll come back to you", the police still haven't arrived… they go to leave through the fire escape and the guy is like, "raaaaaagh!!!", he's been there all this time, and they are like, "Oh my god!", these two council officers are then trapped in the Peer Hat, it's like 2 in the morning, the police… "are you coming?" (makes phone out of hand), "yes, we are on our way"… no police and they're stuck in there freaking out, it was such instant karma, "oh, what's gonna happen?", "well, welcome, this is what life is like…", it started to rain, thank god, and he disappeared. Of course, nothing came of it, what would they say? The report would have to be: *the police we're called, but they chose not to turn up*.
Angus: Bad PR…
Nick: Its the wild west… There was an open mic night (momentary screen freeze)… across the spectrum of society, I always think to myself that it would have been great if there was some kind of independent-diversity-arbitrator going, "Ok, its ticking off all the boxes"… literally every type of person you can imagine was coming and playing music, it was great. There was a couple of Chinese women sat at the front all the way through, really well dressed, it turned out they were air hostesses…
Angus: Really?
Nick: Yeah, they would have been having a stay over in Manchester because of some thing or the other. They just came into the Peer Hat randomly and everyone was like, "Wow, they're beautiful"… they were sat right at the front watching everything, politely clapping, and it comes to the end, and they're whispering. "Well, that's the end of our Peer Hat mic night", "Oh, she wants to play a song", "What? Ok". She sings this godlike, beautiful… Chinese song that she plays on the guitar, and all the men over 40 and 50, when she finishes, are all rushing up (Motions calibrating a mic stand etc), "Just making sure this is all ok for you", it was so grim, but very funny and a marvellous night. There's many, many more but those 2 spring to mind. There are weirder ones than that, but at the top of my head…
Angus: We don't often see enough East Asian performers in these parts.
Nick: Certainly not. Beyond that, even people who aren't necessarily performers per se, of all the places to be and all the times that's where they were, at that point.
Angus: Stars align…
Nick: It is a nexus for weirdness, and sometimes what comes through the doors really throws me.
Angus: Blurs the line between good and evil…
Nick: Based on consensus reality, one other thing… I dedicated the Peer Hat open mic night to Papa Legba, a powerful Haitian, Esper, God-Spirit… my girlfriend is of Jamaican descent, so she wanted to do this, I was like, "Ok, fine, I can do this…". Papa Legba is analogous with Saint Anthony, who has been a patron for my family for as long as I can remember. My grandmother used to have a personal relationship with the Saint, listening to her talk and was always finding things for her… he's the patron Saint of lost things, and I thought, "Oh, that's interesting". So, as part of welcoming him into… he's also the patron of traveling musicians and crossroads… I installed him above the doorway, just as an open mic night post, it was just a picture of him. It said, "he'll pay a visit to you at some point, so be on the look out". Well, a week after doing this, it was night… probably an open mic night actually, again. People were just playing… a lot of the weirder stuff I think happens Monday to Thursday…
Angus: Not the busy period?
Nick: The un-busy period, when you're just getting characters and its more about conversation than it is about dancing and having a good time. This chap comes in, he's in this long red coat, a chap of African descent… it sounds crazy this, and he's like with a guitar, "Can I play this for a while", spinning it around and stuff, he didn't really know how to play… he had this glass of rum with him…
Angus: What kind was it?
Nick: Some sort of Jamaican rum… I can't remember what it was called…
Angus: Captain Morgans?
Nick: No, it was like 65% brew stuff… Anyway, he had this exquisite glass, and he's like, "Drink from this, thank you for welcoming me here, I appreciate it", ok, yeah yeah. My girlfriend says, "Its Papa Legba", "Its not fucking Papa Legba, its just some guy whose come in with a glass of rum that he shouldn't have". Papa Legba is a trickster as well… He was getting a little sleazy with a couple of the girls there, and I had to say, "Look, my friend, that can't happen", "But you invited me here?", "No… what!?, "Well, I'm going to get off anyway, do you want to come with me?", "No, but thank you for the offer", "Ok, Ill see you again"… he went outside, and no shit… I'm sure he just ran off somewhere surely, but I looked, I wanted to say to him, "You're always welcome"… but he was gone. Now, I'm not saying he was Papa Legba, the ancient spirt, but for a moment, for a second, at that moment in time, in that place, he was. He embodied something, the synchronicity of it was just wild, the thing's he was coming out with, the way he was comporting himself… my girlfriend was convinced, "That was Papa Legba", but when he said he invited me here, I didn't invite him… what? The picture on the wall, with his long red coat… really weird…
Angus: Its like that thing about not inviting ghouls and ghosts into your house… a mysterious traveller.
Nick: I honestly think the way these things happen, these living ideas express themselves momentarily through people and their actions. So, for a second someone literally is Zeus, just for that moment. Certainly it applies to you if you occupy that headspace, I think thats one of the things that has excited me about the whole place. That idea of re-enchantment is something that is picking up more pace now, the idea to imbue things with meaning and find the meaning in them, and that feedback… take back our reality from the machine, take it back from reason, take it back from the rational and give it its danger back… quite frankly.
Angus: Live in the realm of possibility I suppose, rather than the random number generator.
Nick: Yes, haunt everything…
Angus: (Laughs spookily) I've got to my last question… out of curiosity, where did you find the curtains (in the Peer Hat)?
Nick: It's funny you should mention that, because we had a brief argument with my dad, "You should change those curtains…", "Why, everyone likes them?", "Yeah I know, just to show you mean business when you come back", "I don't want to, we'll keep the curtains, you're not gonna get them that easily"… Because, it was an old woman who had a stall in Levenshulme Market, ended up talking to her. I played a gig there just before we opened the Peer Hat, if you remember those markets doing gig sort of things?
Angus: I've been to Levenshulme a little bit, whats that place called, the T…
Nick: In the market area, for a while they were experimenting… with live gigs basically, and briefly we… we at the time, Crart (possible misspelling) Gallery and Aatma, we're given an opportunity to curate (Displays disdain for the preceding word) and that kind of thing. "Yeah, I get to fucking play at Levenshulme Market, I hit the big time", we met this woman there and talked… she just made weird curtains, basically, and showed us what she had, there was only one of that, "You can't get those curtains on the market, look all you like, you won't find them!" (Irish-American accent), which made it even more ludicrous. My dad is like, "Change them for a good solid tweed set of curtains!", they were unique and they came out of a fortuitous meeting, basically, which is nice… and they were from Manchester too…
Angus: Mancunian Curtains…
Nick: Local curtains by local people…
Angus: Support local industries (Sheffield accent)… I like them, they definitely give a sense of identity…
Nick: I like them a lot, they're really great aren't they? Our first bouncer was a little traumatised by… she had some bad experiences. She used to say, "Have you had those curtains treated yet!?", "What do you mean treat?", she used to say this to me, with such grief, "Just imagine, someone drives past on a motorbike with a petrol bomb and throws it through the window, they'll go up!", I was like, "What?", if someone is that determined to do us in, that's gonna happen, we're not gonna prevent them with treated curtains… I wish her all the very best, but she made life very difficult, one of those so afraid of danger… 'in the horizon those curtains… (points with one eye closed) were a target for arsonists…'
Angus: (Laughs) The ointment that draws the flies… or honey or whatever…
Nick: Yeah exactly (Laughs), the honey to the arso… Yeah, whatever…
Angus: Back to that superstitious…
Nick: The bar that superstition built.
Angus: Ok, I think I've got everything covered…
Nick: Excellent, I hope I wasn't too insane.
Angus: I really appreciate your time, by the way.
Nick: Oh, its no bother at all, its a pleasure to talk about.
Angus: Alright, ill probably see you when the Peer Hat opens I guess. (Salutes)
Nick: Yeah, yeah, take care.
(The End)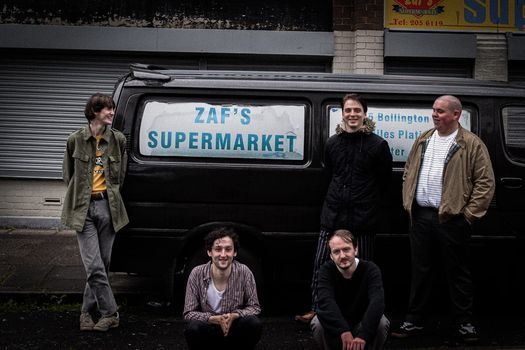 The Peer Hat is now up and running and gigs are (thankfully!) back. Check out thepeerhat.co.uk for upcoming gigs, including The Accident Group (seen above)'s exciting debut show that RR will be reviewing.